About Rex Dunn
Introducing Myself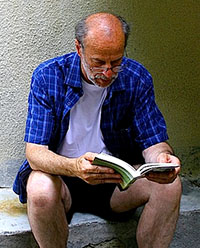 My full name is Rex Grierson Dunn. I was born on 15 February, 1944, in Auckland NZ,
where I grew up. My first degree was BA in History and Politics. I trained as a secondary
teacher and started my career in Auckland. (This ended with a political sacking for
anti-apartheid activities!) Thus I moved to England in early 1971.


I taught in North London for many years; then in Scotland, 2004-8. I also did odd jobs in between!
I retired from teaching in 2010. Other qualifications include a BA honours in Photography, MA in History
and Theory of Photography. I worked as a freelance photographer for the left press during the 1990s.


Radicalised during the Vietnam years. I became a Trotskyist and member of two groups dedicated to 'rebuilding
the Fourth International'. (Both now defunct!) Politically active as a trade unionist for many years. Currently
I subscribe to CPGB paper, Weekly Worker.

I want to keep classical marxism alive, contra all the other 'isms'! Everything seems to come back to the question:
'Why did the revolution fail?' My 'belief system' helps me live my life and informs my work. A bit of a polymath,
I love writing, e.g. essays (on philosophy, history, political economy and art); the odd review.

A lover of art film; I wrote a 'book' in its defence! I'm also a photographer, erstwhile creative writer and poet).
Currently single, I have been living in Bedford, England for the past 4 years.

This email address is being protected from spambots. You need JavaScript enabled to view it.